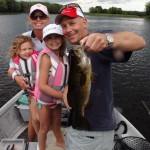 Below you will find a list of fishing guides. If you're after salmon, lake trout, smallmouth bass – and more, then these are your guides. These guides cover a broad range of areas of expertise from freshwater fishing to saltwater fly fishing. In addition to the results that appear below, you can also further refine your search by choosing one of the fishing specific categories shown directly below here.
Narrow down your Maine Fishing Guides Search:
67 Maine Guides/Outfitters Found
Shirley, ME – Whitewater rafting ideal for family rafting and the most adventurous on the Kennebec and Penobscot rivers! Lodging packages, Maine moose watching, outdoor leadership courses in Swiftwater Rescue, Maine Guide School, Raft, Canoe and Whitewater Kayaking.
Old Town, ME – We are 100% focused on fishing. Native brook trout in ponds and streams. Or Hyde driftboat floats for bass or salmon. Lots of ice fishing too. We make fishing FUN!!
Rangeley, Me – Bucktail Guide Service LLC specializes guiding fly fishing clients in Western Maine.
Sebago + Lakes Region, ME – 2018 Sun Tracker 22 Foot Pontoon Boat all set up for fishing , trolling, boating in comfort . Couch seats, bathroom, changing room . Laid back family friendly atmosphere with a captain that is competitive, professional about catching all types of big fish
York, ME – saltwater flyfishing for striped bass, mackerel, and bluefish
Freeport, ME –
Los Suenos, Pu – Dream Raiser Sportfishing offers a wide range of fishing & lodging packages for all budgets. Our experienced crew knows that it's not just about catching fish, but about having fun too. We will make you feel like you're just buddies fishin
South Paris, ME – Full and half day fishing trips located in Western Maine specializing in freshwater stream and lake fishing.
Bingham , ME –
Standish, ME – Sebago Lake Fishing Charter
Kennbunkport, ME – Come fish the coastal Maine waters and tidal rivers of the Kennebunks for Striped Bass, Bluefish and Mackerel. Children and adults of all ages and abilities will enjoy this memorable day of fishing.
Belfast, ME – Come and fish for stripers and blue fish on the famous Kennebec river with registered maine guide Captain Sam Cassida.
Sanford, ME –
Clinton, ME – I am a Registered Maine Guide with a specialty in fishing, more specifically fly fishing for brook trout, rainbow trout, brown trout, and landlocked salmon. I do everything from wading, to kayaking, to canoeing, and boating to get to where the fish are.
Bath, ME – Great Gadzooks Maine Striper and Tidewater Fishing invites you to experience Striped Bass fishing on the beautiful Maine coast. Captain Johan Brouwer, a Registered Maine Guide, has fished Maine waters for Striped Bass and Bluefish for many years.
Lovell, ME – Rocky Ridge Guide Service – Striper and Blue fishing on the coast of maine. Fishing on Sebago Lake, Kezar Lake, and many other Lakes and Ponds for Bass, Salmon & Lake Trout.Turkey, Grouse, Woodcock and White Tail Deer Hunting in the beautiful foothill
Kennebunkport, ME – Come visit us here onboard the Libreti Rose for a fun filled fishing trip for the whole family. Design your own trip by the time you have available. Enjoy the beautiful coastline of Maine while fishing for Striped Bass, Bluefish, and Mackerel. The Libreti
Otis, Me – Downeast Maine's premier guide service for the past 16 years. Offering fully guided Fishing, Hunting and Recreation trips in Eastern Maine.
Standish, me – Guided lake trout and landlocked salmon trips on Big Sebago lake and surrounding areas, beautiful sunset tours of Sebago lake as well as ferry service to fryes island
Ellsworth, ME – Full service master guide. Specializing in Bear over bait ,whitetail and moose hunts.
Brunswick, ME – Maine Bass Fishing Guide Service offers fully guided Smallmouth and Largemouth Bass fishing adventures on Maine's scenic lakes and rivers
Portland, ME – Offering both fresh and saltwater guided trips in the State of Maine.
readfield, ME – We offer wilderness survival training, maine guiding and security contracting.
Lyman / Dexter, ME – offering hunts for bear, deer, waterfowl, sea ducks, turkey,coyote.
Tidal fishing, offshore fishing
Naples, ME – Songo River Guide Service specializes in fishing in the Sebago lake region of Maine. Come cast for bass in the weeds and rocks or troll the big bodies of water for trout and salmon. Seasons run from April to the end of October. Ice fishing trips January
Greenville, ME – Maine Adventure Travel Vacation & Wildlife Trips!
The Ultimate Maine Vacation Experience
Manuel Antonio, Pu – Blue Horizon is a Costa Rican company that offers you the best services of sportfishing, surfing and luxury transportation in the paradise of Manuel Antonio, Costa Rica.
Norridgewock, ME – Offering fully guided and outfitted canoe/camping/fishing and hunting trips in Maine and Canada ranging from 2-14 days.
Brownville, ME – Guided hunts and fishing trips
Clayton Lake, ME – Enjoy pristine North Maine Woods Wilderness. It doesn't get any more remote than this!! Guided Muskie, Brook Trout, Lake Trout, Whitefish, Bear, Moose, Deer, Bird Hunts
Greenville, ME –
Enfield, ME – We offer driftboat floats for smallmouth bass on Maine's Penobscot River. Specializing in trout, salmon, and bass fishing throughout Maine.
Bradford, ME – Fishing in Maine – We offer fishing on Maine Lakes, Ponds, Rivers and streams.
– Jet Boat, Drift Boat, Kayak, Float Tube or Stream Side.
– Group or one on one instruction in multiple techniques and applications.
– Fly Fishing instruction on our privat
Millinocket, ME – A Traditional and Authentic Maine Wilderness Camp in the heart of Maine's fabled "North Woods" and a wonderful spot for family wilderness vacations!
Lee, ME – It's time to start thinking of the up coming fishing season. We are a small operation offering hunting,fishing and wildlife photography. We are comfortably designed to accommodate four sportsmen or sportswomen in our housekeeping cottage.
Auburn, ME – Guided fishing trips on the lower Androscoggin River
Sidney, ME – Specializing in Trout, salmon and bass fishing trips and waterfowl and upland bird hunting trips in the Central Maine area
Scarborough, ME – Blue Star Guide Service specializes in fresh water fly and spin fishing. We center on designing your special days where we strive to create life long memories. Beginner to expert, we can help up your game. Go to bluestarguideservice.com for more inform
Bath, ME – Join Super Fly Charters off the rugged coast of Maine for a day saltwater fly & light tackle fishing for Striped bass and Bluefish. We have many years experience guiding anglers on the coast of Maine and the Kennebec river. Capt. John Coppoa is a Regi
Machias, Me – We are a guide service located in Downeast, Maine. We specialize in Moose and Deer hunts, as well as excel in fishing trips for both cold and warm water species.
Clifton, ME – Located in central Maine near Acadia, Bar Harbor, Bangor and Grand Lake Stream. Open May – Dec. Spin casting or fly fishing for smallmouth bass, trout/salmon. Grouse and woodcock hunt with dogs. Canoeing, fly fishing instruction, spring trolling.
Pittsfield, ME – Located 2 miles off exit 150 on I-95 in Pittsfield, specializes in hunting, fishing, and trapping, as well as lodging and personalized adventures. Also located on ITS-84
Newport, – Fish comfortably out of a versatile 18′ foot jet boat! We target Smallmouth and Largemouth bass on various bodies of water throughout central Maine.
Skowhegan, ME – P.B.Guide Service with camp located in Maine North Woods Region offers baited Black Bear hunts in the scenic Allagash Wilderness Region, one of the last great wilderness areas in Maine.
Gray, ME – Fishing on Sebago Lake for over 30 years.
Bath, ME – From families to experts & beginners alike, we'll tailor the ultimate Maine Experience trip just for you. Specializing in guided Fishing, Canoeing, Camping, Hunting & Photography.
Dennysville, ME – Dennys River Guide Service specializes in hunting, fishing and recreation in Downeast Maine. Come visit us and enjoy the hospitality and beauty of Washington County, Maine.
Weston, ME – For the first timer and seasoned paddler. Choose a guided canoe trip on the St. Croix, Allagash, and Penobscot Rivers 3-8 days. View wildlife, enjoy comfortable campsites & great meals cooked over an open fire. Trophy bull moose hunts offered in WMD 1
Bangor, ME – I offer a wide variety of fishing trips, from smallouth bass fishing on the world famous Penobscot River to remote pond fly fishing trips in the North Maine woods!
South Portland, ME – Maine Largest Charter Fleet. Guaranteed Fish! Come see what the Reel Action Experience is all about.
Casco, ME – Licensed Captain & Master Guide John Bielat will guide you to an exciting outdoor adventure including salt and freshwater fishing, hunting & wilderness expeditions in Maine.
Old Orchard Beach, ME – In Northwestern Maine, guided fly fishing expeditions along the Magalloway River, the Kennebago River, the world-famous Upper Dam Pool, and more. In Southern Maine, fishing expeditions major rivers and streams in Cumbeland and York Counties.
Allagash, Me – His and her guide and recreation service located in the north maine woods. Hunting, fishing, canoeing, camping and lodging.
The Forks, ME – Whitewater rafting, fun yaking, canoeing, and kayaking trips for fanatics to families on Maine's Wild Rivers. Daily trips ranging from 1/2 day to full week Lakeside camping, cabins, and more. No experience necessary.
Freeport, ME – Join Captains Eric Wallace and Drew Deffenbaugh of Coastal Fly Angler for a quality guided fly fishing experience on Casco Bay and the Kennebec River.
Gorham, ME – We specialize in fly fishing for trout and salmon in the Rangeley region on the Rapid, Kennebago and Magalloway rivers. Float/wading trips on the Androscoggin for trout and bass. Ponds and rivers in the Sebago region.
Appleton, ME – I offer fly fishing and spin fishing in midcoast and northern Maine for bass and trout.
Springfield, ME – Tucker Ridge Outdoors offers four-season recreation trips in the greater Highlands region of Maine. Positioned at the corners of Penobscot, Aroostook & Washington counties, we are able to offer world class fishing, hunting and recreation opportunities
Raymond, ME – Full and half-day trolling for lake trout (togue) and salmon. Also bass fishing trips available. Those new boat owners or lakeside property owners can get half or full-day lake orientation cruises. Find out where the lake hazards lie, where to get gas,
Portland, ME – Light tackle and fly fishing guide trips. We focus on sight fishing the tidal flats of Casco Bay and the northeast.
Saco, Me – Big Game fishing charters aboard the Miss Megan II out of Saco ME. Fishing Maine for Bluefin Tuna, Sharks, Cod, Haddock, Striped Bass and Bluefish. Charter fishing from beautiful Saco / Old Orchard Beach Maine.
The "Miss Megan II" can accommod
Eagle Lake, ME – Do you like Moose, WE HAVE MOOSE. 8 Housekeeping sporting and recreational cabins located in Northern Maine. Easy access to remote ponds to fly fish for Native Brook Trout and Landlocked Salmon. Cabins include everything, electricity, full bathroom.
Weston, ME – Sixty years of exceptional smallmouth bass and landlocked salmon fishing on 22 mile long East Grand Lake. Also specializing in delightful family vacations. Comfortable lakeside cabins with kitchens or outstanding home-cooked meals provided.
South China, ME – Fishing for Stripers, Blues, Bass, Brook Trout, Brown Trout, Rainbow Trout, Salmon, Smallmouth and Largemouth Bass. Hunting for Deer, Turkey, and Waterfowl.
Millinocket, ME – Loon Lodge is situated in the heart of the Allagash Lake Region, Maine. Professionally guided hunting, fishing, hiking trips and more. Guaranteed photo safaris.
Greenville, ME – We offer fishing excursions on Moosehead Lake and other surrounding waters, whether it be lake water or on ice. Harold is an experienced guide that spends most of his days on the water ensuring that he knows where the fish are and what they are currently
West Forks, ME – Our 4-season resort in W. Forks, Maine is your connection to outdoor adventure. Take a day trip or choose an all-inclusive mini-vacation…offering something for everyone in your party… Rafting, ATV Tours, Lake Kayaking, River Kayaking, Fishing, Hiking