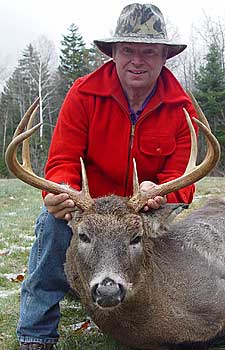 Maine offers some of the most extraordinary hunting opportunities in the United States. From big game, small game, and foul hunting; Maine's diverse habitats are home to an abundant number of game animals. Maine's North Woods are renowned for its well managed Deer and Bear populations.
If you're looking to go hunting in Maine for black bear, deer, moose, coyote – and more, then these registered Maine Guides are what you're looking for. Some hunting guides specialize, like big game hunting, and below you can find a guide by specific types of hunting you're looking to do.
Narrow your Maine Hunting Guides search down:
Big Game Hunting
Black Bear, Whitetail Deer, Moose, Coyote, Bobcat
Bow Hunting
Hunt Early Season
Small Game Hunting
Rabbit, Fox, Grouse, Duck, Pheasant, Turkey
Maine Hunting Guides Directory
44 Maine Guides/Outfitters Found
Ashland, ME – A remote wilderness hunting and fishing camp. Some of the finest hunting for Moose, Black Bear and Ruffed Grouse and Lake Fishing.
Monroe, ME – Professionally guided saltwater charters for striped bass, lighthouse, lobster and bay tours. Freshwater charters Fly fishing, trolling, spin cast and ice fishing. Guided hunting for sea ducks, bear, moose, deer, turkey, coyote, grouse and trapping trips.
Saint Agatha, ME – Canada goose/duck field hunts, Trout fishing, snowmobiling
Princeton , Me – Specializing in bear hunts over dogs and bait.
Sebec, ME – Our lodge is located on Sebec Lake – We cater to outdoor sportsmen. Deer – Bear – Moose – Bobcat – Best in Hunting + meals + Lodging + Fishing – Come Join Us.
South Portland, ME – Maine Largest Charter Fleet. Guaranteed Fish! Come see what the Reel Action Experience is all about.
Newport, ME – A four seasons lodge offering excellent hunting for deer, bear, moose, & turkey. (archery-firearm-black powder). Fishing for salmon, brook trout, lake trout and bass. We take pride in exceeding your expectations
Searsport, ME – COME HUNT EIDERS, OLDSQUAWS AND SCOTERS ON THE BEAUTIFUL COAST OF MAINE

Sea Duck hunting on the Maine Coast, Baited Bear hunts, Island Bow-hunting for White-Tailed Deer, Turkey hunting and fishing for Striped Bass on the Kennebec.
Dover-Foxcroft, ME – Our guides are true professionals whose keen knowledge of the game, hunting technique and the land combines to clearly distinguish a Foggy Mountain hunt from all others.
Sidney, ME – Specializing in Trout, salmon and bass fishing trips and waterfowl and upland bird hunting trips in the Central Maine area
Skowhegan, ME – P.B.Guide Service with camp located in Maine North Woods Region offers baited Black Bear hunts in the scenic Allagash Wilderness Region, one of the last great wilderness areas in Maine.
Cave Creek, Ar – Black Mountain Outfitters has been serving the hunting community and offering fully guided hunts in New Mexico and South Dakota since 2003. Trust BMO to give you only the best hunting experience.
Fort Fairfield, ME – Moose Hunts WMD's 1,2,3,4,5 &6
Bear hunts over bait
Canoe trips/shuttles, Fishing
Weston, ME – 2023 SCHEDULED TRIPS: Canoe the Wild offers fully outfitted and guided turn key canoe trips from 3-7 days on the Allagash, St. Croix. St. john and Penobscot Rivers. Guided Moose hunts for lottery winners from wall tent camps in Maine�
Allagash, ME – The town of Allagash is located in one of the most rural areas of Maine. Allagash has become famous throughout the eastern United States for its wild rivers, the Allagash and St. John, and top notch big game hunting. Hunting trips for bear over bait and w
Fairfield, ME – Registered Maine Guides in Central Maine
Eagle Lake, ME – A Cabela's World's Foremost Hunting Destination – Bear – Moose – Upland – Waterfowl
Bingham, ME – Sunrise Ridge offers all the excitement of Trophy hunting coupled with pure outdoor fun, set in the beautiful Mountains of Maine. We pursue hunting and other outdoor sports with passion.
Maine, ME – We hunt deer, turkey and moose.We also offer spring fishing and snowmobiling.
Lee, ME – We specialize in affordable Guided Trophy Black Bear hunts over bait in the wilderness of Northern Maine. We are a Full-Service guide, located in Lee Maine and have baits in three hunting zones 11,18 and 19, which is some of the best black bear habitat.
Shapleigh, ME – Sea ducks and Stripers from the islands of Saco Bay, Turkeys and Deer in York County to Moose and Rabbits in the mountains of Rangeley, Maine. We will meet your needs and exceed your expectations.
Princeton, ME – Sportsmans Paradise – Maine Guided Hound hunts, fishing, trapping, snowmobiling, canoeing & outdoor adventures. Bobcat hunts, deer hunts, bear hunts, moose hunts, rabbit hunts, coyote hunts, trout & bass fishing, beaver trapping. Lodging.
KINGFIELD, Ma – We are a Family owned and operated business in the Beautiful Western Maine Mountains. We also have a Guide service and a list of competent local Guides who we refer and can outfit you for your next Outdoor Adventure!
The Forks, ME –
Freeport, ME – Complete guide service specializing in Coastal Maine Sea Duck Hunting, Kennebec River and Casco Bay Striped Bass fishing and Inland Salmon and Trout fishing
Oxbow, ME – Homestead Lodge is the top black bear, whitetail and Moose hunting outfitter in Maine.
Gouldsboro, ME – Outdoor Adventures with Hunting, Fishing & Maine Coastal Sea Duck hunting with Registered Master Maine Guides in Downeast Maine
Rangeley, ME – Offering guided deer, moose and bear over bait hunts in the Western Mountains area in zones 7 & 8. Also offer Women's Weekend Retreats & kayak tours. Most guided trips include comfortable lodging and homemade meals in our cozy cabins.
Thorndike, ME – Accomplished professional hunting guide service for black bear, whitetail deer, turkey, moose and bobcat in down east Maine. Spruce Mountain Lodge is a modern, clean, guide lodge nestled in the heart of Down East Maine's prime wilderness hunting a
Grand Lake Stream, ME – We specialize in bobcat and black bear hunts with hounds. We also offer black bear hunts over bait, upland bird, white-tailed deer, and moose hunts. Guided fishing trips are available during spring and summer, targeting landlocked salmon and lake trout.
Bridgewater, ME – Maine?s Premier Guide to the Outdoors. Hunting Bear, Deer, Moose, Small Game Hunts. Fishing, Snowmobiling, Cabin Rentals. If its outdoors you can experience it here.
Rangeley, ME – Specializing in Bear hunts over bait and Upland Game. Also offering select fishing tours
Patten, ME – Your Hosts: Bert & Hank Goodman
Registered Maine Guides
Firearms – Bow – Black Powder

North Country Lodge – North Country Lodge is a hunting resort located in Aroostook county. We cater to bear, deer, and moose hunters. Also offer a guide service
Mars Hill, ME – bear and moose hunts.
Millinocket, ME – Loon Lodge is situated in the heart of the Allagash Lake Region, Maine. Professionally guided hunting, fishing, hiking trips and more. Guaranteed photo safaris.
Bath, ME – From families to experts & beginners alike, we'll tailor the ultimate Maine Experience trip just for you. Specializing in guided Fishing, Canoeing, Camping, Hunting & Photography.
Brunswick, ME – Thornehead Guide Service offers professionally guided sea duck hunting excursions for trophy Eiders, Long-tails (Old Squaws), and Scoters along the scenic coast of Maine.
Oquossoc, Me – Fly fishing on the Magalloway, Kennebago, and Rapid Rivers. Also fly fishing on small ponds and trolling on Aziscohos, Rangeley, and Mooselookmeguntic Lake. We also provide hunts for deer, moose, upland birds and bear over bait.
Danforth, ME – A secluded four season resort with over 5000 feet of lake frontage and the finest accommodations. We specialize in bear, deer, and moose hunting, and excellent smallmouth bass fishing.
Gardiner, ME – Hunt with Maine's most competent guides in prime bear and bobcat country. Our knowledge and experience of over 30 years will work to your advantage.
Clifton, ME – Spin cast or fly fish for smallmouth bass, ice-out trolling for landlocked salmon, wade fish for trout and salmon, upland hunt for ruffed grouse and woodcock with dogs.
Rockport, ME – Master Maine Guide. Hunt or fish in the midcoast area or the Penobscot region with a full guide service offering lodging.
Wilton, ME – Making every trip an expedition of a lifetime. World class guided trips for fly fishing and multi-day canoe camping expeditions from the Mausam river to The Rangeley Lakes Region and "upta" The Allagash Wilderness Waterway.
Patten, ME – First Class hunts for Black Bear, Whitetail Deer and Moose (by lottery only)