Guided Trophy Black Bear Hunts Over Bait
Have a Professional Maine Guide show you the best black bear habitat in the Northeast, hundreds of thousands of acres in Northern Maine.
Maine Black Bear Hunting Guides
Black bears can be hunted in Maine using a variety of methods during a 16-week fall hunting season opening on the last Monday in August and closing the last Saturday in November. During the first 4 weeks (primarily the month of September), bears can be hunted over bait. Hunters can pursue bears with hounds for six weeks (mid-September to end of October), and can still hunt or stalk bears the entire 16 week season.
Maine Bear Hunting Regulations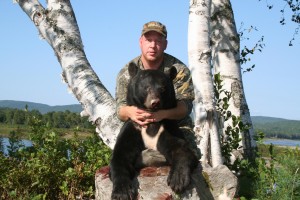 Information from the Maine Dept. of Inland Fisheries and Wildlife: