Maine Bear Hunting
Have a Professional Maine Bear Hunting Guide show you the best black bear habitat in the Northeast, hundreds of thousands of acres in Northern Maine.
Black bears can be hunted in Maine using a variety of methods during a 16-week fall Maine Bear Hunting Season opening on the last Monday in August and closing the last Saturday in November. During the first 4 weeks (primarily the month of September), bears can be hunted over bait with the assistance of a Maine Bear Hunting Guide. Maine Bear can pursued with hounds for six weeks (mid-September to end of October), and can still hunt or stalk bears the entire 16 week season.
Maine Bear Hunting Regulations
Information from the Maine Dept. of Inland Fisheries and Wildlife: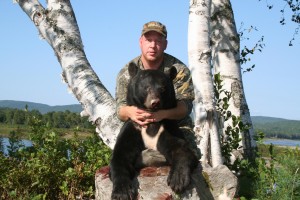 Maine Bear Hunting Guides
5 Maine Guides/Outfitters Found
Thorndike, ME - Accomplished professional hunting guide service for black bear, whitetail deer, turkey, moose and bobcat in down east Maine. Spruce Mountain Lodge is a modern, clean, guide lodge nestled in the heart of Down East Maine's prime wilderness hunting a
Danforth, ME - A secluded four season resort with over 5000 feet of lake frontage and the finest accommodations. We specialize in bear, deer, and moose hunting, and excellent smallmouth bass fishing.
Grand Lake Stream, ME - We specialize in bobcat and black bear hunts with hounds. We also offer black bear hunts over bait, upland bird, white-tailed deer, and moose hunts. Guided fishing trips are available during spring and summer, targeting landlocked salmon and lake trout.
The Forks, ME -
Patten, ME - First Class hunts for Black Bear, Whitetail Deer and Moose (by lottery only)
---
Maine Bear Hunting Gallery