Maine Bear Hunting
Have a Professional Maine Bear Hunting Guide show you the best black bear habitat in the Northeast, hundreds of thousands of acres in Northern Maine.
Black bears can be hunted in Maine using a variety of methods during a 16-week fall Maine Bear Hunting Season opening on the last Monday in August and closing the last Saturday in November. During the first 4 weeks (primarily the month of September), bears can be hunted over bait. Maine Bear Hunting can pursued with hounds for six weeks (mid-September to end of October), and can still hunt or stalk bears the entire 16 week season.
Maine Bear Hunting Regulations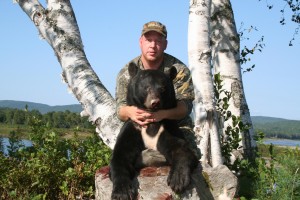 Information from the Maine Dept. of Inland Fisheries and Wildlife:
Maine Bear Hunting Gallery
Maine Bear Hunting Guides
5 Maine Guides/Outfitters Found
Bridgewater, ME - Maine?s Premier Guide to the Outdoors. Hunting Bear, Deer, Moose, Small Game Hunts. Fishing, Snowmobiling, Cabin Rentals. If its outdoors you can experience it here.
Dover-Foxcroft, ME - Our guides are true professionals whose keen knowledge of the game, hunting technique and the land combines to clearly distinguish a Foggy Mountain hunt from all others.
Weston, ME - For the first timer and seasoned paddler. Choose a guided canoe trip on the St. Croix, Allagash, and Penobscot Rivers 3-8 days. View wildlife, enjoy comfortable campsites & great meals cooked over an open fire. Trophy bull moose hunts offered in WMD 1
Rockport, ME - Master Maine Guide. Hunt or fish in the midcoast area or the Penobscot region with a full guide service offering lodging.
Skowhegan, ME - P.B.Guide Service with camp located in Maine North Woods Region offers baited Black Bear hunts in the scenic Allagash Wilderness Region, one of the last great wilderness areas in Maine.