Maine Bear Hunting
Have a Professional Maine Bear Hunting Guide show you the best black bear habitat in the Northeast, hundreds of thousands of acres in Northern Maine.
Black bears can be hunted in Maine using a variety of methods during a 16-week fall Maine Bear Hunting Season opening on the last Monday in August and closing the last Saturday in November. During the first 4 weeks (primarily the month of September), bears can be hunted over bait with the assistance of a Maine Bear Hunting Guide. Maine Bear can pursued with hounds for six weeks (mid-September to end of October), and can still hunt or stalk bears the entire 16 week season.
Maine Bear Hunting Regulations
Information from the Maine Dept. of Inland Fisheries and Wildlife: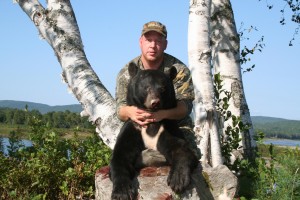 Maine Bear Hunting Guides
5 Maine Guides/Outfitters Found
Cave Creek, Ar - Black Mountain Outfitters has been serving the hunting community and offering fully guided hunts in New Mexico and South Dakota since 2003. Trust BMO to give you only the best hunting experience.
Rangeley, ME - Offering guided deer, moose and bear over bait hunts in the Western Mountains area in zones 7 & 8. Also offer Women's Weekend Retreats & kayak tours. Most guided trips include comfortable lodging and homemade meals in our cozy cabins.
Maine, ME - We hunt deer, turkey and moose.We also offer spring fishing and snowmobiling.
Allagash, ME - The town of Allagash is located in one of the most rural areas of Maine. Allagash has become famous throughout the eastern United States for its wild rivers, the Allagash and St. John, and top notch big game hunting. Hunting trips for bear over bait and w
KINGFIELD, Ma - We are a Family owned and operated business in the Beautiful Western Maine Mountains. We also have a Guide service and a list of competent local Guides who we refer and can outfit you for your next Outdoor Adventure!
---
Maine Bear Hunting Gallery
---
RELATED CONTENT