Maine Bear Hunting
Have a Professional Maine Bear Hunting Guide show you the best black bear habitat in the Northeast, hundreds of thousands of acres in Northern Maine.
Black bears can be hunted in Maine using a variety of methods during a 16-week fall Maine Bear Hunting Season opening on the last Monday in August and closing the last Saturday in November. During the first 4 weeks (primarily the month of September), bears can be hunted over bait with the assistance of a Maine Bear Hunting Guide. Maine Bear can pursued with hounds for six weeks (mid-September to end of October), and can still hunt or stalk bears the entire 16 week season.
Maine Bear Hunting Regulations
Information from the Maine Dept. of Inland Fisheries and Wildlife: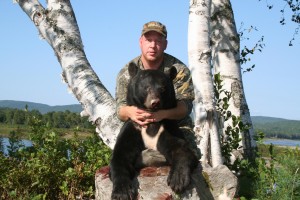 Maine Bear Hunting Guides
5 Maine Guides/Outfitters Found
Danforth, ME - A secluded four season resort with over 5000 feet of lake frontage and the finest accommodations. We specialize in bear, deer, and moose hunting, and excellent smallmouth bass fishing.
Wilton, ME - Making every trip an expedition of a lifetime. World class guided trips for fly fishing and multi-day canoe camping expeditions from the Mausam river to The Rangeley Lakes Region and "upta" The Allagash Wilderness Waterway.
Cave Creek, Ar - Black Mountain Outfitters has been serving the hunting community and offering fully guided hunts in New Mexico and South Dakota since 2003. Trust BMO to give you only the best hunting experience.
The Forks, ME -
South Portland, ME - Maine Largest Charter Fleet. Guaranteed Fish! Come see what the Reel Action Experience is all about.
---
Maine Bear Hunting Gallery