Maine Bear Hunting
Have a Professional Maine Bear Hunting Guide show you the best black bear habitat in the Northeast, hundreds of thousands of acres in Northern Maine.
Black bears can be hunted in Maine using a variety of methods during a 16-week fall Maine Bear Hunting Season opening on the last Monday in August and closing the last Saturday in November. During the first 4 weeks (primarily the month of September), bears can be hunted over bait. Maine Bear Hunting can pursued with hounds for six weeks (mid-September to end of October), and can still hunt or stalk bears the entire 16 week season.
Maine Bear Hunting Regulations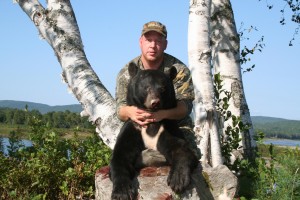 Information from the Maine Dept. of Inland Fisheries and Wildlife:
Maine Bear Hunting Gallery
Maine Bear Hunting Guides
5 Maine Guides/Outfitters Found
KINGFIELD, Ma - We are a Family owned and operated business in the Beautiful Western Maine Mountains. We also have a Guide service and a list of competent local Guides who we refer and can outfit you for your next Outdoor Adventure!
Maine, ME - We hunt deer, turkey and moose.We also offer spring fishing and snowmobiling.
South Portland, ME - Maine Largest Charter Fleet. Guaranteed Fish! Come see what the Reel Action Experience is all about.
Bridgewater, ME - Maine?s Premier Guide to the Outdoors. Hunting Bear, Deer, Moose, Small Game Hunts. Fishing, Snowmobiling, Cabin Rentals. If its outdoors you can experience it here.
Gardiner, ME - Hunt with Maine's most competent guides in prime bear and bobcat country. Our knowledge and experience of over 30 years will work to your advantage.