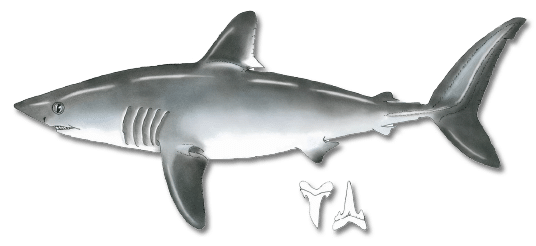 Porbeagle Shark (Lamna nasus) Family Lamnidae, Mackerel sharks
Common names: porbeagle, mackerel shark
Description: Porbeagle sharks are dark blue gray above with white on their lower sides and underbelly. A distinctive patch of white can be found at the trailing edge of their first dorsal fin. These sharks have a pointed snout, a stout torpedo shaped body and a crescent shaped tail fin. Porbeagle sharks can be distinguished from white and mako sharks by their teeth, which are smooth edged and have a little cusp present along each side of the base of each tooth, and by the presence of two caudal keels on their tail fin. These sharks can grow to 10 feet and weigh over 450 pounds.
Where found: inshore and offshore
Similar Gulf of Maine species: white shark, mako shark
Remarks: Porbeagle sharks are strong, fast swimmers that are capable of rapid acceleration. A good sportfish, they can put up a determined fight when hooked. Fishing methods include trolling or bait fishing while chumming. Favorite baits are mackerel, herring and squid. The meat of the porbeagle is of good eating quality.
Records: MSSAR (Maine State Saltwater Angler Records)
IGFA: All­-Tackle World Record
Fish Illustrations by: Roz Davis Designs, Damariscotta, ME (207) 563­2286
Drawings provided courtesy of the Maine Department of Marine Resources Recreational Fisheries program and the Maine Outdoor Heritage Fund.
BACK TO: Maine Saltwater Fish Species List