Maine Small Mouth Bass Fishing
Maine has some of the best smallmouth bass fishing in the US.
We literally have hundreds of lakes and ponds with thriving populations of smallmouth bass, and many of them see hardly any fishing pressure.  The Downeast region is probably the best-known area for traveling anglers to journey in pursuit of smallmouth bass.  And lakes like Spednick, Junior, Rocky, East Grand and the Grand Falls Flowage all have well-deserved reputations as consistent producers of quality fishing.  But anglers in the Central Maine, the Belgrade Lakes area, and the Sebago region also have great bass fishing right at their doorstep in places like Sebec Lake, Indian Pond, Molasses Pond, Seboeis Lake, Long Lake and Thompson Lake. Maine also has a number of outstanding river fisheries that include sections of the St. Croix, Androscoggin, Penobscot, Kennebec, Nezinscot, Mattawamkeag and many more.
Smallmouth bass begin to get active when water temperatures reach 55F.  During the higher water periods of May and June, bass are frequently found close to shoreline structure and river banks.  While later in the summer, they often migrate to deeper water associated with weed beds and rock piles.
Many anglers feel that the best fishing occurs during the spawn, which usually takes place the first two weeks of June in most Maine waters.  Since I am busy guiding trout and salmon fishermen in May and June, I do almost all of my smallmouth bass fishing from July through September.   Most of my fishing is done from a drift boat on the Penobscot River, and it is common for us to catch more than 50 fish per day all summer long.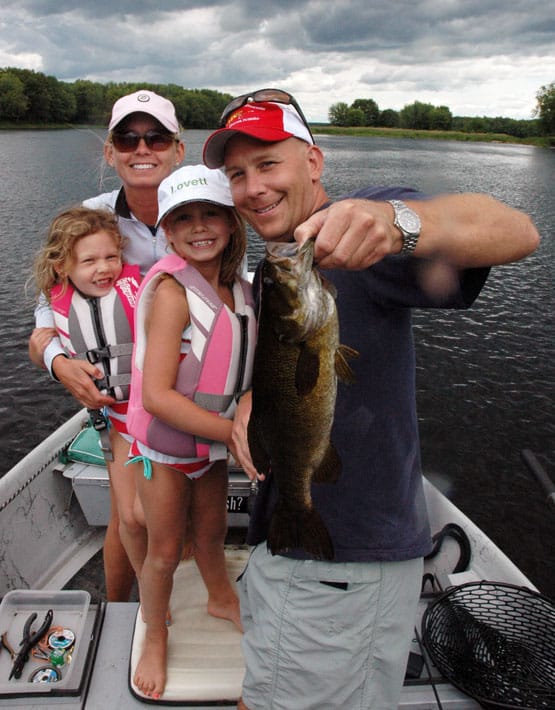 The growing season for smallmouths in Maine is short, so they generally are not very fussy about what they will eat.  Fly fishermen do well with popping bugs and sliders, and spin fishermen are successful with everything from stickbaits and spinners, to a wide variety of soft plastic baits.  A chartreuse Rapala was probably our most productive bait so far in 2011.  Along with their versatility, I also appreciate the fact that Maine smallmouth bass can be caught right through the hot, bright part of a mid-summer day.  And, of course, their fighting and jumping ability, is legendary.
The shorter days and cooling water temperatures in early fall trigger a period of heavy feeding in Maine smallmouth bass, as they  try to build up extra body mass for the coming winter.  We experience some of our best fishing of the season in September and early October.  So don't trade your fishing rod for your shotgun too soon.
Maine Freshwater Fishing Guides
---
RELATED CONTENT